Back to product listing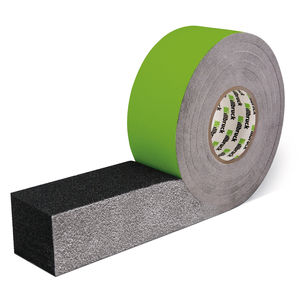 TP651 is an impregnated, pre-compressed multi-functional sealing tape. It is comprised of open-cell polyurethane soft foam, impregnated with flame-retardant synthetic resin. The different vapour diffusion properties are achieved through a unique, one-sided patented side impregnation. The impregnation also protects the tape against mould and fungi. TP651 utilises the property of water-vapour permeable sealing, making it less permeable inside than outside (inside tighter than outside principle).
Usage/Purpose
TP651 is used for sealing the perimeter joints of windows and doors against driving rain and provides airtightness. It also offers thermal insulating properties within the perimeter gap between the window and reveal and maintains the energy rating of the window/door. An 'A' rated (WER) window can therefore be classed as having an 'A' rated installation*.
* Installation rating not included in BFRC 'WER' scheme
Suitable for new-build and replacement installations
Meets BS8213-4:2016 Code of Practice & GGF Guide to Good Practice – Installation of replacement windows and doors
Maintains the energy rating of the window
Resistance to driving rain (up to 600Pa), provides thermal and acoustic insulation and air tightness all in one product
Meets CWCT test for site water tightness (TN41)
Quick and easy window sealing in one application
All-weather installation
Breathable
Packaging
Supplied on pre-compressed rolls, with self-adhesive on one side for initial location.
Technical data
<thead></thead>
| Property | Test Method | Result |
| --- | --- | --- |
| Building Classification | DIN 4102 | B2 (normally flammable) |
| Grouping | DIN 18542 | BG1 + BGR |
| Thermal Conductivity | DIN 52 612 | ʎ10 = 0.048 W/m.K |
| WaterVapour Diffusion, sd Value | DIN 18542 | α < 0.5 m |
| Vapour Pressure Gradient | | Less permeable inside due to side surface impregnation |
| Joint Permeability | EN1026 | < 0.1 m³/[h.m.(daPa)2/3] |
| Resistance to Driving Rain | EN 1027 | 600 Pa min. |
| Sound Insulation | EN ISO 717-1 | 45 dB in 10 mm joint |
| Compatibility with Traditional Building Materials | DIN 18542 | In accordance with BG1, perform a compatibility test on products that contain solvents or plastcicisers |
| Emission Test | AgBB/ DIBt method | Suitable for interior use |
| Service Temperature | | -30°C to +90°C |
| Storage | | Store in dry shaded conditions between +1°C and +20°C |
| Shelf Life | | 9 months when stored in cool, dry conditions in original unopened containers. |