Back to product listing
ME010
Façade UV & Fire Membrane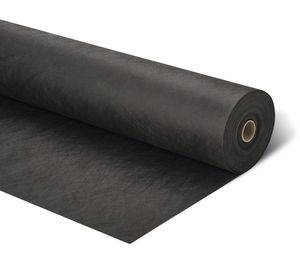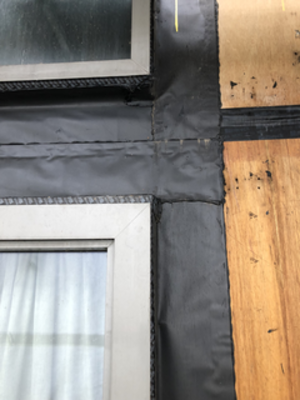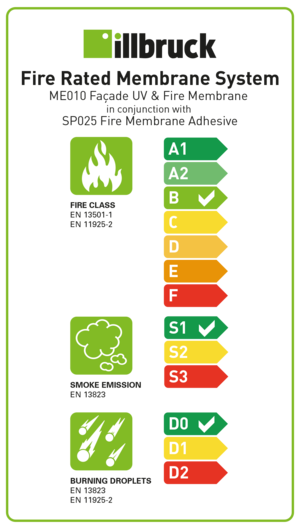 ME010 is a water and air tight but vapour permeable polyester based breather membrane – used either as a full façade application or in narrower widths as a window perimeter interface seal. Along with SP025 Fire Membrane Adhesive, used to bond the membrane, the illbruck Fire Classified Membrane System complies with the reaction to fire classification Class B-s1, d0 according to EN13501-1 and also meets W1 water resistance, permanent UV stability and the correct vapour permeability criteria.
Usage/Purpose
For exterior use
This high performance breather membrane can be directly laid on sheathing board or thermal insulation behind partially or fully open rain screen façades or curtain walling. Suitable for full façade or window perimeter sealing applications.
Read our expert article about the 'Belt & Braces' Approach to New Fire Regulations and the value of ME010 in delivering complete assurance HERE!



Permanently UV-resistant
Class B-s1, d0 to EN13501-1 – fixed to Class A2-s1, d0 mineral wool insulation or sheathing board. Tested with SP025 adhesive as a Fire Classified Membrane System
High range of in-service temperature resistance
Highly vapour-open
Non-branded, plain black finish - suitable for visible applications
Airtight and weather-tight
Available with self-adhesive strip
Packaging
Item No. Roll Width Roll Length Rolls/Box
398872 1.5 m 50 m 1
Technical data
Property
Test Method
Result
Grammage
~ 160 g/m²
Thickness
EN 1849-2
~ 0.5 mm
Reaction to Fire
DIN 4102
B1
Reaction to Fire
EN 13501-1
Class B-s1, d0, fixed to mineral wool or sheathing board, (min. A2-s1, d0), including SP025 Adhesive
Resistance to Water Penetration
EN1928
W1
After Ageing
EN 1297/1296
W1
Maximum Tensile Strength - Lengthwise/Crosswise
DIN 12311-1
Approx. 400/230 N ± 15%
After Ageing
EN 1297/1296
>75 % of value as new
Elongation of Break - Lengthwise/Crosswise
EN 12311-1
~ 30/35% ± 15%
After Ageing
EN 1297/1296
>75 % of value as new
Tear Growth Resistance / Nail Shank
EN 12310-1
~ 100 / 120 N ± 15%
Vapour Diusion - Equivalent Air Layer Thickness
EN ISO 12572 S
Sd-value: ~ 0.04 m
Air Permeability
EN 12114
~ 0.1m³/m².h.50 Pa
Service Temperature
EN 13859-1
-40°C to +150°C
Flexural Behaviour in Cold Conditions
EN 1109
< -20°C
UV Resistance
Permanent
Storage
Store in shaded, dry conditions and avoid stacking pallets
Shelf Life
1 year when stored as recommended in original unopened packaging