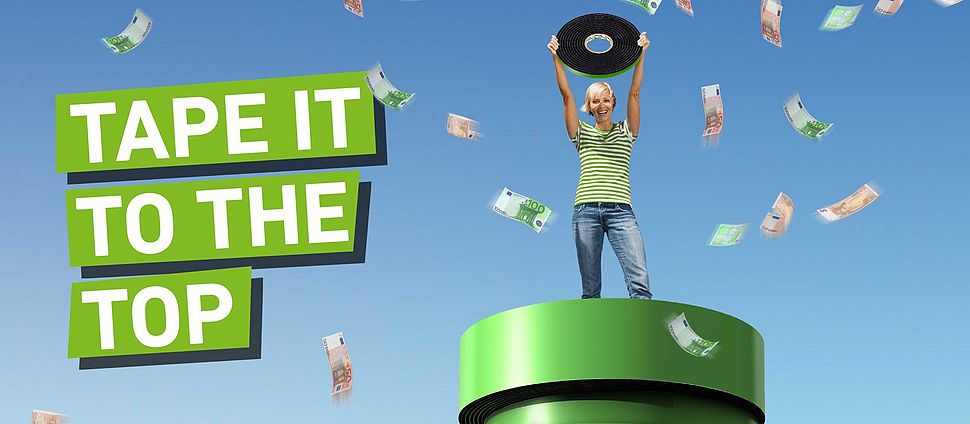 Tape it to the Top!
Impregnated joint sealing tapes offer a lot of benefits due to their performance and installation properties, which include: weather and wind tightness, vapour permeability, acoustic and thermal performance, suitability for large joint widths and being permanently elastic with high movement absorption (50% to 100%). The installation is easy and fast, because little or no substrate preparation is required. With more than 60 years' experience in R&D and the production of high quality tapes, illbruck is one of the market leaders in Europe in this sector. illbruck's portfolio includes impregnated joint sealing tapes, multifunctional tapes and non–impregnated tapes for a variety of application areas.
TAPE IT TO THE TOP: illbruck tapes - identifiable by their green boxes and the illbruck logo inside the rolls - are TOP of the class:
Quick application of innovative products

Quick application of innovative products

illbruck's history presents a lot of evidence of this for impregnated joint sealing tapes and multifunctional tapes. In 1995 the foam tape TP600 Compriband 600 with a water based impregnation was launched as the first tape, a product which fulfills the high fire resistance demands of today's DIN 186542: B1 standard.

Another real innovation that has changed the market for sealing products was in 2007 with the development and launch of the first multifunctional tape, TP650 illmod trioplex. Other multifunctional tapes followed, including the TP652 Trio + with illbruck step technology and TP653 Trio X, which is a combination of a tape and a polymer membrane to achieve 100% airtight and smoke tight window joint sealing.

This is proof that you can "tape it to the top" – as with illbruck tapes you will always be ready for the task at hand!

Safety & Prevention of structural damage

Safety & Prevention of structural damage

The quality of illbruck's products is proven on a regular base by multiple external institutes. One example of this is the "outdoor weathering test" which has been going on for over 24 years. Once a year the MPA Bau Hannover check the functionality of the TP600 Compriband 600 applied in a mock-up that has been exposed all year round to wind, rain, ice, snow and sun for over two decades. Due to the tapes excellent rain tight nature the test result has always been: 100% 600 pa.

Another point of proof is the CE mark for TP600 Compriband 600 and the RAL approval for TP600 Compriband 600, TP652 Trio + and TP653 Trio X tapes.

Safeness also means being able to access illbruck's services via different online and offline routes. The illbruck team supports its customers from the planning phase up to the training on the construction site.

Sustainable and environmentally responsible

Sustainable and environmentally responsible

Being ISO 14001 certified, we guarantee that our production processes meet this rigorous international environmental management standard, which is recognised around the world.

The EC1PLUS certification provides assurance to applicators that products can be applied safely and healthily. Also in the tape range, TP600 Compriband 600, TP602, TP610 and the multifunctional tapes TP652 Trio + and TP653 Trio X all have this certificate.

In this way, we make a contribution to supporting environmentally responsible construction.
---
Tape it to the top: We produce 130.000 km per year, this is enough to go around the world 3 times!
Contact Us for individual requests or have a look at our reference projects
---
The illbruck product range offers tapes for different applications and with the choice between Premium, High or Medium quality. No matter the challenge, for example are you looking for a "Passive house" standard? Is the building located near a coast? Are you looking for a Passive House or NZEB standard? Will the façade have an EWI? For all the different demands of the construction industry, the illbruck range is able to offer certified and economical solutions.