Back to product listing
SP050
Fix & Seal Universal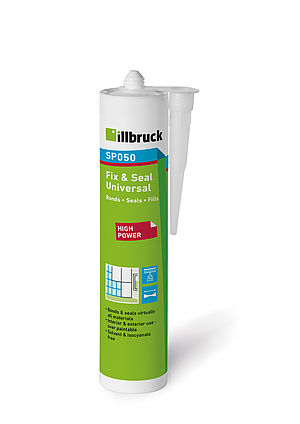 SP050 is a multi-purpose sealant and adhesive based on tremco illbruck's advanced SP polymer formulation.
Usage/Purpose

SP050 provides a high strength flexible bond in a wide variety of construction and industrial applications. Typical uses include the bonding of skirting boards, battens, slats, door thresholds, acoustic panels (and similar sheet materials), etc.


A green alternative to traditional polyurethane adhesives - does not contain solvents or isocyanates and is very low odour
Excellent adhesion to a wide range of materials including metals, glass, PVC and concrete
Tack free in less than 30 minutes
Excellent weather resistance - suitable for internal and external applications
Can be over painted once cured
Usage Guidelines
May be applied to damp substrates.
For optimum adhesion, surfaces should be clean, dry, sound and free of contamination.
Always carry out a test to confirm compatibility prior to use.
Roughen non-porous surfaces.
On materials such as glass, aluminium, ceramics, lacquered wood, epoxy and polyester no primer is required. For other materials, please contact tremco illbruck Technical Services.
Technical data
| Property | Test Method | Results |
| --- | --- | --- |
| Composition | | Advanced SP polymer formulation |
| Specific Gravity | DIN 52451-A | 1.6 |
| Consistency | EN 27390 20 mm profile | 0 mm , non-sagging |
| Shore A Hardness | | 50 |
| Shrinkage | DIN 52 451 | 3% |
| Modulus at 100% Elongation | EN 28 340 | 1.7 N/mm² |
| Tensile Strength | DIN 53 504 S2 | 2.1 N/mm² |
| Elastic Recovery | EN 27 389-B | > 50% |
| Cure Time (at 20°C) | | ~ 2.5 mm/1st day |
| Skinning Time | @23°C and 50% RH | ~ 17 minutes |
| Application Temperature | | +5°C up to +40°C |
| Service Temperature | | -40°C up to + 90°C |
| Storage | | Store in shaded dry conditions between +5°C and +25°C. |
| Shelf Life | | 18 months when stored as recommended in original unopened containers. |