Back to product listing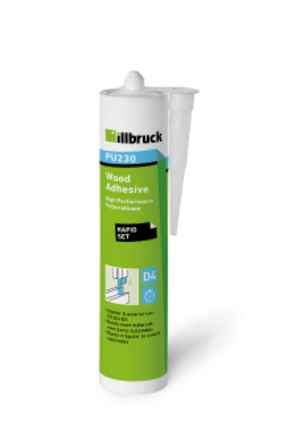 PU230 is a PU adhesive paste which cures rapidly to form an exceptionally strong water resistant bond. It is ideal for use in all types of joinery, construction & repair applications where a permanent bond is required.
Usage/Purpose

PU230 applications include: fixing and bonding of windows, doors, staircases architrave's, boat building, fixing of carpet grippers to concrete and wooden floors, etc. The adhesive is highly water-resistant and can be used in applications where regular wetting and/or high humidity is anticipated.


Waterproof adhesive suitable for external use - meets the requirements of EN 204 (D4)
Forms an exceptionally high bond strength to most building materials, even damp substrates
Rapid curing formulation bonds in as little as 5 minutes
Gap filling action achieves a high strength bond with irregular or uneven substrates
Rapid curing and outstanding bond strength without the need for priming or surface treatment
Usage Guidelines
Always carry out a test to confirm compatibility prior to use.
All surfaces to be bonded must be close fitting, degreased, clean, and free from dust and any other contamination.
Dampening the surfaces to be bonded with a moist cloth or spray can increase the rate of cure.
Roughen non-porous surfaces.
Technical data
| Property | Results |
| --- | --- |
| Composition | Thixotropic polyurethane paste |
| Conformance | EN204: D4 |
| Specific Gravity | 1.08 |
| Viscosity (at 20°C) | 100,000 cps |
| Cure Time (at 20°C) | 30 - 40 minutes |
| Open Time | 6 - 7 minutes |
| Application Temperature | +5°C to +40°C |
| Service Temperature | -50°C to +120°C |
| Storage | Store in dry shaded conditions between +5°C and +25°C |
| Shelf Life | 9 months when stored as recommended in original unopened packaging. |