Back to product listing
PU220
Polyurethane Wood Adhesive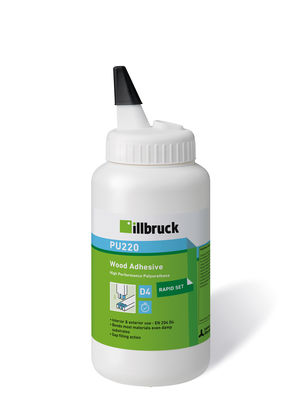 PU220 is a low viscosity, rapid curing, polyurethane wood adhesive. The adhesive is highly water-resistant and can be used in applications where regular wetting and/or high humidity is anticipated.
Usage/Purpose

For Interior and Exterior Use
PU220 is a joinery shop staple product, designed for very quick bonding and also suitable for full water immersion, even in seawater. It is used to bond many types of wood, plastic foams and other insulating materials to a wide variety of both rigid and flexible facing materials. Such composites form structural sandwich panels and insulated building boards and may be used in the manufacture of cold stores, caravans, mobile homes an offices, insulated building units, etc.


Water resistant adhesive suitable - meets the requirements of EN 204 (D4)
Once cured it is fully submersible and suitable for exterior use
Forms an exceptionally high bond strength to most building materials, even damp substrates
Gap filling action achieves a high strength bond with irregular or uneven substrates
Rapid curing and outstanding bond strength without the need for priming or surface treatment
Usage Guidelines
Always carry out a test to confirm compatibility prior to use.
All surfaces to be bonded must be degreased, clean, and free from dust and any other contamination.
Dampening the surfaces to be bonded with a moist cloth or spray can accelerate the rate of cure.
Metals should be stored at room temperature prior to bonding to avoid chilling the glue line.
Most coated and pre finished ready for painting metals are well suited for bonding. Some grades of aluminium galvanised steel and plastics can be difficult to bond and may require the use of a primer.
Technical data
| Property | Result |
| --- | --- |
| Composition | Polyurethane liquid |
| Conformance | EN204: D4 |
| Specific Gravity | 1.08 |
| Viscosity (at 20°C) | 2,000 cps |
| Cure Time (at 20°C) | 30 - 40 minutes |
| Open Time | 6 - 7 minutes |
| Application Temperature | +5°C to +40°C |
| Service Temperature | 50°C to +120°C |
| Storage | illbruck PU220 is protected by a blanket of nitrogen in the container prior to dispatch, which forms a dry, inert layer on top of the adhesive. Store in dry shaded conditions between +5°C and +25°C. |
| Shelf Life | 9 months when stored as recommended in original unopened packaging. |