Back to product listing
FA190
Frame and Façade Silicone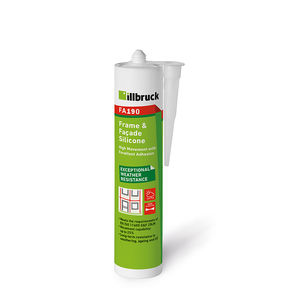 FA190 is a one part, neutral curing, low modulus, translucent silicone sealant.
Usage/Purpose

For Interior and Exterior Use
FA190 is a low modulus, single pack translucent silicone sealant ideal for use in: expansion & curtain wall joints, perimeter joints around windows or doors, panel joints between most common substrates, heel and toe beads, polycarbonate glazing and other general joint sealing applications.
It is fast curing, ready-to-use, suitable for weather sealing and bonding in construction applications.
It has excellent adhesion to most porous substrates including wooden, aluminium and PVC-U window and door frames, concrete.


Meets the requirements of EN ISO 11600 G&F 25LM
Movement capability: up to 25%
Long-term resistance to weathering, ageing and UV
Low modulus formulation ensures minimum strain at joint faces
Neutral cure: low odour and non-corrosive