Back to product listing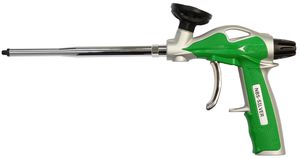 This ultra-high quality gun has been specially designed for the professional end-user.
Usage/Purpose
Fur use with all 1K NBS foams
Description
The hybrid design, with metal and thermoplastic material parts is solvent and stick proof. A PTFE coating on metal parts makes cleaning and maintenance easier. We recommend this gun for use with our professional PU and water based foams.
Packaging
Individual units.
Technical data
| | |
| --- | --- |
| Positioning | Premium duty |
| NBS Seal | Yes |
| PTFE Skin | Yes - adapter, rod, body and nozzle |
| Frame Material | Hybrid |
| Unlock Screw | Yes |
| Soft Grip | Yes |
| Performance Span | >300,000 |
| Warranty | 2 Years |
| Dimensions | 350 x 210 x 50 mm |