Back to product listing
PU700
Multi-Use Construction Adhesive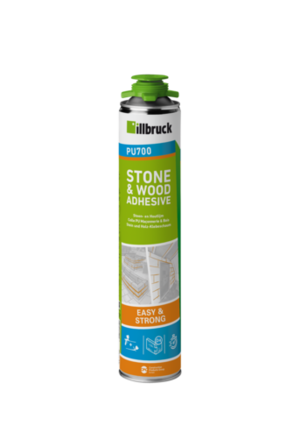 PU700 is a rapid curing polyurethane foam adhesive which can be applied by gun or straw.
Usage/Purpose




For Interior and Exterior Use
PU700 is a high-strength adhesive in an innovative delivery system which allows for more accurate application and prevents premature curing. Suitable for bonding a wide variety of materials.



An innovative solution for bonding bricks / blocks that can replace traditional mortar
High performance wood and joinery adhesive
Ideal for bonding a wide range of construction materials including steel and foam
Rapid curing – joint can be handled / manoeuvered within 10 minutes, and cures fully within 24 hours
Easy to use: no mixing, no water, no dust, no specialist tools or equipment required
Suitable for indoor or outdoor use
Excellent long-term resistance to seawater, limewater, dilute acids and caustic solutions
Usage Guidelines
Protective Equipment
USE IN WELL VENTILATED CONDITIONS and ensure all recommended protective equipment is worn during handling & use of this product. For full recommendation, refer to safety data sheet.

Preparation
IMPORTANT: At least one surface should be porous.
Always carry out a test to confirm compatibility prior to use.
Protect floor coverings with paper or a plastic film.
The surfaces must be dry, solid, stable and capable of carrying the load of the panels to be installed.
Remove all loose particles, dust and grease.
A speedier cure can be attained by moistening the substrates if needed.
Application
Shake the canister vigorously at least 20 times. Remove the protective cap and screw onto the illbruck PU foam gun or straw.
Apply a bead of PU700 along the horizontal and vertical sections to be bonded. Keep the end of the nozzle just off the surface.
For best results always work with the canister in a vertical position and keep the valve pointed downwards.
For full details, refer to technical data sheet.
Technical data
Characteristic
Standard
Result
Composition
Polyurethane Foam
Conformance
EN 204/205
D4
Fire Class
EN 13501-1
Class E, B2
Open Time
3 cm in width at 23°C and 50% RH
8 minutes
Tack Free Time
3 cm in width at 23°C and 50% RH
8 minutes
Loading Time
24 hours
Tensile Strength
FEICA TM 1018
10,500 kPa

Application Temperature*

*Application temperature of -5°C applies only if the surface is dry

Canister: +10°C to +30°C

Ambient: -5°C to +35°C

Service Temperature

Short Term: -40°C to +130°C

Long Term: -40°C to +90°C

Storage
Store in shaded, dry conditions between +10°C and +25°C
Store canisters upright
Shelf Life
12 months when stored as recommended in original, unopened containers