Back to product listing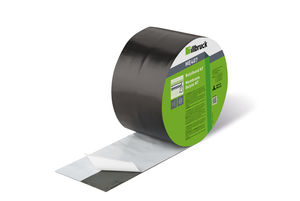 ME407 is a cold, self-adhesive membrane for vapour, air & watertight joints between exterior wall sections & load-bearing structures.
Usage/Purpose
ME407 is used to make various joints and exterior wall sections internally vapour and airtight, externally watertight, and to create pressure equalisation in the exterior wall structure.
UV resistant film/backing
The adhesive layer remains flexible at high and extremely low temperatures and does not extrude
Does not cause staining on the substrate, so the adhesive layer does not dry out
Bonds to virtually all existing substrates
Does not require preheating before or during application
Provides permanent grip
Very high vapour tightness, hence watertight and airtight also
Usage Guidelines
Bonding surfaces must be clean, and free from grease and other contaminants that could affect a sound bond.
Bonding surfaces must be stable and free from loose material.
On highly porous substrates (concrete, cellular concrete, plasterwork, etc.) as well as butyl tape overlaps, we advise priming with ME901 or ME902 Butyl & Bitumen Primer.
To determine the width dimension of the illbruck ME407 Butyl Tape NT, the following general rule applies: the width of the joint plus 100 mm bonding surface (50 mm either side).
To determine the total length required, the following general rule applies: when joined together, ME407 Butyl Tape NT should have an overlap of at least 50 mm.
Description
ME407 is a membrane made up of a laminate film with a pure butyl adhesive layer, lined with siliconised paper.
Packaging
| Roll Width (mm) | Roll Thickness (mm) | Rolls/Box |
| --- | --- | --- |
| 50 | 0.8 | 12 |
| 100 | 0.8 | 6 |
| 150 | 0.8 | 4 |
| 200 | 0.8 | 3 |
| 250 | 0.8 | 2 |
| 300 | 0.8 | 2 |
| 350 | 0.8 | 1 |
Technical data
| Property | Standards | Result |
| --- | --- | --- |
| Basic Bonding Layer | | Modified butyl rubber adhesive |
| Film (Backing Material) | | Cross laminated ALU/ HDPE film |
| Protective Film | | PE film, siliconised |
| Fire Class | DIN 4102 | B2 (normally flammable) |
| UV Weather Resistance | | Excellent |
| Water Vapour Permeability | 4108-3 | Water vapour tight (sd value ≥500 m) |
| Vapour Diffusion Resistance | EN1931 Method B | μ > 1,000,000 |
| Staining on Building Materials | | Compatible with many substrates |
| Temperature Resistance | | -20°C to +80°C |
| Application Temperature | | +5°C to +40°C |
| Storage | | Rolls must be stored lying flat and level, in dry and dust-free conditions between +5°C and +35°C |
| Shelf Life | | 2 years when stored as recommended in original unopened packaging |