Back to product listing
ME011
Breather Membrane UV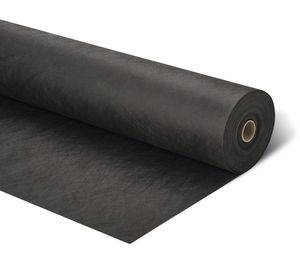 ME011 is a functional membrane for protecting the building during the construction phase and the building fabric throughout its life.
Usage/Purpose
For Exterior Use
This breather membrane provides a weather tight protection during the construction phase. Providing excellent aesthetics, whilst maintaining high performance weather protection, it lcan be directly laid on sheathing board or thermal insulation behind partially open rain screen façades or curtain walling.
Also available in wide format 3.2m version (ME009). Ideal for use in offsite/modular construction.
6 months UV stable during construction phase
Can be used within partially open façades up to 30mm gap
Non-branded, plain black finish
- suitable for visible applications
Wide range of in-service temperature resistance
Highly vapour open
Air-tight and weather-tight
Packaging
| | | | |
| --- | --- | --- | --- |
| Item No. | Roll Width | Roll Length | Rolls/Box |
| 398872 | 1.5 m | 50 m | 1 |
Technical data
Property
Test Method
Result
Grammage
~ 120 g/m²
Thickness
EN 1849-2
~ 0.4 mm
Dimensional Accuracy
EN 1107-2
< 1%
Reaction to Fire
EN 13501-1
Class E
Resistance to Water Penetration
EN1928
EN 13859-1/-2
W1
After Ageing
EN 1297/1296
W1
Maximum Tensile Strength - Lengthwise/Crosswise
DIN 12311-1
~ 320/210 N ± 20%
After Ageing
EN 1297/1296
>75 % of value as new
Elongation of Break - Lengthwise/Crosswise
EN 12311-1

~ 35/25%

After Ageing
EN 1297/1296
>75 % of value as new
Tear Growth Resistance / Nail Shank
EN 12310-1
~ 120/130 N ± 25%
Vapour Diusion - Equivalent Air Layer Thickness
EN ISO 12572 S
Sd-value: ~ 0.15 m
Air Permeability
EN 12114
~ 0.1 m³/m².h.50 Pa
Service Temperature
EN 13859-1
-40°C to +120°C
Flexural Behaviour in Cold Conditions
EN 1109
< -20°C
Durability for Water Vapour Permeability
EN 1296
Passed
UV Resistance
6 months
Storage
Store in shaded, dry conditions and avoid stacking pallets
Shelf Life
1 year when stored as recommended in original unopened packaging