Back to product listing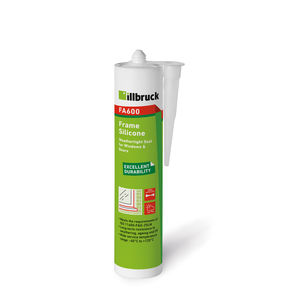 FA600 is a gun grade, neutral cure, low modulus silicone window sealant with fungicide.
Usage/Purpose

For Interior and Exterior Use
FA600 cures rapidly to form a permanently flexible and extremely durable watertight seal. It is designed for sealing glazing applications, window and door perimeters, display cases, conservatories and greenhouses.


Meets the requirements of ISO 11600-F&G-25LM
Long-term resistance to weathering, ageing and UV
Wide Service Temperature Range: -40°C to +150°C
Neutral curing: compatible with sensitive substrates
Contains fungicide to reduce mould growth
Packaging
310 ml cartridge (20 per carton)
600 ml sausage (20 per carton)
Technical data
| Property | Test Method | Results |
| --- | --- | --- |
| Composition | | neutral cure silicone sealant with fungicide |
| Specific Gravity | | ~ 1.01 |
| Consistency | SO 7390, profile U20 | non-sag |
| Shore A Hardness | ISO 868 | ~ 20 |
| Skin Forming Time | at 23°C, 50% RH | ~ 10 minutes |
| Tack Free Time | | ~ 30 minutes |
| Cure Rate | at 23°C, 50% RH | ~ 2 mm/1st day |
| Tensile Strength | ISO 8339 | ~ 0.5 N/mm² |
| Modulus at 100% Elongation | ISO 8339 | ~ 0.4 N/mm² |
| Elongation at Break | ISO 8339 | ~ 230% |
| Movement Capacity | | 25% |
| Elastic Recovery | ISO 7389 | ~ 85% |
| Application Temperature | | +5°C to +40°C |
| Service Temperature Range | | -40°C to +150°C |
| Storage | | Store in dry conditions between +5°C and +25°C |
| Shelf Life | | 12 months when stored as recommended in original unopened containers |