Back to product listing
AT200
General Purpose Cleaner for Degreasing Metals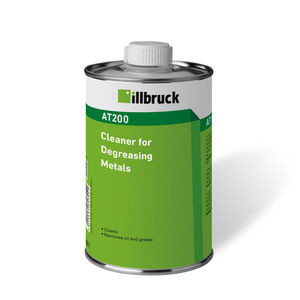 AT200 is a blend of solvents for cleaning and degreasing joint edges and adhesive surfaces and for cleaning working tools.
Usage/Purpose
AT200 is used to remove grease, oil, etc.
Rapid drying and easy to use
Ideal for cleaning substrates prior to the application of illbruck sealants
Usage Guidelines
Apply by using clean cloth part soaked with AT200
Flash-off time is approximately 1 minute.
A trial test to ensure there is no leaching/migration is recommended. Examples of where this is necessary are PVC with a high plasticiser content, tar, bitumen and organic elastomers.
Always refer to the sealant data sheet for full application instructions.
Description
General Purpose Cleaner for Degreasing Metals
Packaging
500 ml tins (10 per box)
Technical data
Currently there is no Technical Data for this product.