Back to product listing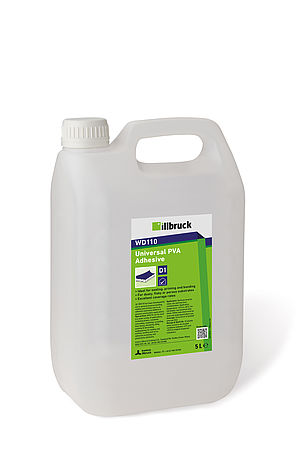 WD110 is a general purpose PVA emulsion adhesive that has been developed as a PVA adhesive for use in general purpose bonding, sealing and priming and as an adhesion improving additive in general construction applications.
Usage/Purpose
WD110 can be used in a wide range of construction applications including: joinery, carpentry, concreting rendering, screeding, floor laying, plastering, tiling, painting & decorating, wallpapering, for sealing and priming, bonding and as an adhesion promoting and plasticising admixture.
Versatile multi-purpose PVA with a wide range of applications
Suitable for use as an adhesive, primer or sealer, neat or diluted
Ideal for use as a seal coat on flaking paintwork, dusty concrete or very porous substrates
Usage Guidelines
Remove any skin on the surface of the adhesive and stir before use.
Apply the adhesive to one surface only using brush or roller.
Open time will be approximately 10 minutes depending on ambient conditions. Assembly should be made as soon as convenient within the open time.
When used as an adhesion promoter or primer, the adhesive may be diluted with water.
When used as a primer, sealer or admixture, WD110 can be diluted by up to 20% by volume with water.
Technical data
| Property | WD110 |
| --- | --- |
| Composition | PVA emulsion |
| Conformance | EN204: D1 |
| Specific Gravity | 1.05 |
| Viscosity (at 20°C) | 3,500 - 4,500 cps |
| Open Time | 10 minutes |
| Maximum Bond Strength (at 20°C) | 24 hours |
| Application Temperature | +5°C to +25°C |
| Service Temperature | 30°C to +80°C |
| Storage | Store in dry shaded conditions between +5°C and +25°C. |
| Shelf Life | 12 months when stored as recommended in original unopened packaging. |