Back to product listing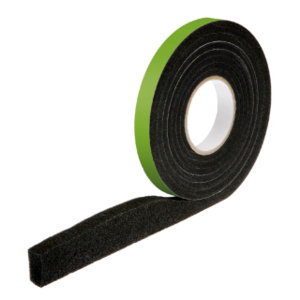 TP605 is an acrylic impregnated foam sealant strip which when used under compression provides a high performance weatherseal. It can be used internally & externally for the linear sealing of movement joints
Usage/Purpose
TP605 Compriband Super is designed for use internally or externally for the linear sealing of movement joints in a wide variety of construction and civil engineering applications, for example in brick and block work walls, partitions, as a perimeter seal around window and door frames, sealing pre-cast concrete panels, sectional buildings and insulated cladding panels.
After positioning, the material expands to find its own level and creates a permanent elastic seal. The product remains flexible throughout its life and responds to continual expansion and contraction cycles caused by thermal and structural movement.
Excellent weather resistance – over 600 Pa
Permanently flexible & breathable
In-service life expectancy > 25 years
Usage Guidelines
No special surface preparation or primers are required but contact surfaces must be clean of dust, dirt, loose matter, grease or oils.
Technical data
| | | |
| --- | --- | --- |
| Property | Test Method | Result |
| Impregnation System | - | Acrylic |
| Sealing Performance Under Compression by 80% (supplied pre-compressed by approx 85%) | DIN EN ISO 1027 | > 600 Pa |
| UV Resistance | ISO 53387 | Pass |
| Combustion Properties P-NDSO4-581 | DIN 4102 -Part 1 | B1 |
| Air Permeability | DIN EN ISO 1026 | < 0.1 m³/(h.m.daPa)n |
| Compatibility | KIWA – test method | Pass |
| Compatibility with sealants has to be tested in every case | DIN EN ISO 12572 | <100 ì |
| Certification | | KOMO KEUR; K41903/01 |
| In-Service Life Expectancy | | > 25 years |
| Service Temperature | | -30°C to +85°C |
| All performance figures quoted are averages and subject to tolerances. | | |