Back to product listing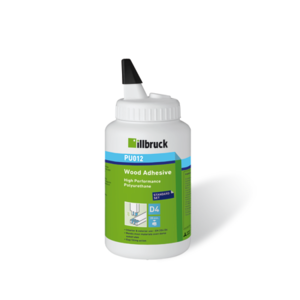 A low viscosity PU adhesive designed for rapidly bonding wood to wood.
Usage/Purpose
For interior and exterior use
PU012 is a liquid PU adhesive designed for bonding wood to wood. It is suitable for full water immersion, even in seawater. It is ideal for the manufacture and lamination of composite panels and will bond many different types of foam and insulation materials to a wide variety of rigid and flexible facing panel types. Typical uses are in the manufacture and erection of cold stores, caravans, mobile homes, offices and insulated building units.


Waterproof adhesive suitable for external use - meets the requirements of EN 204 (D4)
Forms an exceptionally high bond strength to most building materials, even damp substrates
Gap filling action achieves a high strength bond with irregular or uneven substrates
Outstanding bond strength without the need for priming or surface treatment
Longer open time allows for accurate placement
Preparation
Always carry out a test to confirm compatibility prior to use.
All surfaces to be bonded must be close fitting, degreased, clean, and free from dust and any other contamination.
Dampening the surfaces to be bonded with a moist cloth or spray can increase the rate of cure.
Metals should be stored at room temperature prior to bonding to avoid chilling the glue line.
Most coated and pre-finished ready for painting metals are well suited for bonding. Some grades of aluminium galvanised steel and plastics can be difficult to bond and may require the use of a primer.
Usage Guidelines
Apply using a trowel, notched scraper or hand roller to one of the surfaces to be bonded along the glue line. The amount applied will vary according to the porosity/smoothness of the substrates and the means of application but would normally be in the range of 80 - 120 ml per m².
Once the adhesive has been applied, a light misting of water should be applied. About 5 - 7.5% of water by weight based on the adhesive coating weight is ideal. Avoid excessive amounts of water.
Assembly should then take place with the application of pressure/clamping as soon as possible to minimise water evaporation and within the open time of the adhesive.
The pressure required will vary depending on the substrates used but will typically be in the range of 0.5 to 0.9 bar.
The pressure should be maintained until the adhesive has cured sufficiently to permit handling of the bonded item.
Full cure will not be obtained for 24 hours and handling within this period should be kept to a minimum.
Health + Safety Precautions
Safety data sheet must be read and understood before use.
Description
PU012 is a low viscosity, liquid polyurethane wood adhesive.
Packaging
750 g bottle (12 per carton)
Cleaning
Remove excess adhesive immediately with AA290 PU Foam Cleaner. Ensure surface is solvent resistant before cleaning.Cured adhesive can only be removed mechanically.
Technical data
Characteristic
Standard
Classification
Density
1.14 g/cm³
Viscosity
Liquid
Solids Content
Approx. 100%
Conformance
EN204: D4
Working Time
Approx. 20 minutes
Pressing Time
12 hours
Pressing Pressure
10 - 30 kg/cm²
Flash Point
> +110°C
Coverage
100 – 200 g/m² depending on the porosity of the substrate
Service Temperature
–30°C to +100°C
Application Temperature
+5°C to +30°C
Storage
Store in shaded, dry conditions between +5°C and +25°C. Protect from frost.
Shelf Life
12 months when stored as recommended in original unopened containers