Back to product listing
MT480
High Grip Solvent Free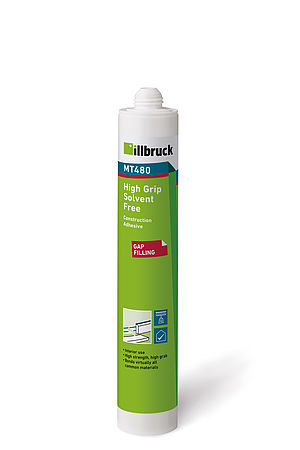 MT480 is a water-based, gap filling grab adhesive. It offers the same gap filling and bonding performance, but without the issues surrounding solvent-based adhesives.
Usage/Purpose

MT480 has been developed to provide a water-based alternative to conventional grab adhesives. It is suitable for a wide range of construction applications and bonds to most typical construction materials.


Water based construction adhesive with high initial grab and ultimate bond strength
Contains no organic solvents
Gap filling formulation forms a strong bond even with irregular or uneven substrates
Bonds most typical construction material - ideal for expanded and extruded polystyrene
Usage Guidelines
All surfaces must be clean and free from grease, contamination dust and other loose material.
Surfaces may be damp but not running wet.
It may be necessary to prime dusty or porous substrates with WD110 diluted 5:1 with water and allow to dry thoroughly before using the adhesive.
Abrading the bond surfaces will assist final bond strength.
Technical data
| Property | Results |
| --- | --- |
| Composition | Water based emulsion |
| System | Evaporative cross linking |
| Specific Gravity | 1.6 |
| Final Adhesion Strength | 7 days |
| Application Temperature | +5°C to +40°C |
| Service Temperature | 40°C to +100°C |
| Storage | Store in dry shaded conditions between +12°C and +25°C. Do not allow to freeze. |
| Shelf Life | 12 months when stored as recommended in original unopened packaging. |