Back to product listing
ME501
Duo Window Membrane HD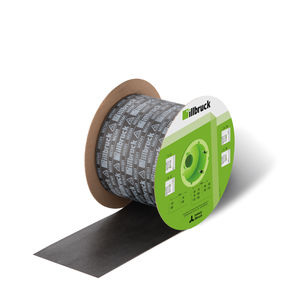 ME501 is a high strength, tear resistant membrane made from polyethylene copolymer film with non-woven fabric. It can be applied before or after window installation to suit on-site details and programming. It is also available with gasket options for fixing to window profiles.
Usage/Purpose
For Exterior Use
ME501 provides a high performance seal to the perimeter joint between the window/curtain wall and the construction reveal. Due to the intelligent, variable vapour permeability (sd value), when used in an internal UK (warm) environment, it will be vapour-tight, and when used in an external UK (cold) environment it will be vapour open. This means that the membrane is suitable for interior and exterior use providing an air-tight and weather-tight seal whilst always complying with inside tighter than outside principles.
The product meets the recommendations of the RAL Quality Assurance Association for windows and doors. Successfully tested by MPA Hannover to EN1026 (airtightness) & EN1027 (weathertightness). The membrane is attached to the window with SP525 adhesive, enhanced acrylic adhesive + strip, or integral gasket and to the construction reveal material with SP525 adhesive.
Complies with principle of 'inside tighter than outside' in order to facilitate efficient vapour control
BBA accredited alternative to EPDM in many applications
Excellent drying potential (due to the membrane's vapour permeability) avoiding mould growth and physical damage
UV stable - will tolerate up to 9 months direct exposure prior to covering
Fully compatible with illbruck building protection membranes
Usage Guidelines
Application - Bonding with SP525 Adhesive After Frame Installation
For full details - refer to Method Statement(suitable for single windows and curtain walling/multiple coupled windows)
Ensure window frame is clean and dry. Apply a 10 mm dia. bead of SP525 to the frame face or edge (as appropriate) to allow alignment 15 mm from one edge of the back (shiny) face of the membrane. Consolidate with a seam roller, taking care that the adhesive does not exude out onto the frame. The compressed bead should now be approximately 20-30 x 2-3 mm. If it is not possible to apply a consolidated bead of minimum 20 mm, please consult tremco illbruck technical department.
Although OT015 is primarily intended for bonding ME220 (EPDM) membrane, it can also be used for bonding ME500 and ME501 'intelligent' membranes – see appropriate TDS's.
NOTE: For further information regarding SP525, please consult technical data sheet, available from website (www.illbruck.co.uk).
Application - Bonding with Enhanced 'Acrylic Adhesive +' Strip
Bond the ME501 to the edge or face of previously cleaned frame and to construction material with SP525 adhesive
Gasket Option
As an alternative fixing method to the frame, there are four gasket options which can be used, dependent on a suitable groove on the frame profile. The gasketed membrane is fixed to the construction material using SP525 as in previous application details above.
ME501 is the world's first intelligent (sd variable) window membrane with gasket attachment and RAL approval. This guarantees highest quality and durability and the air tightness and weather tightness performance can be maintained.
When using the gasket fixing option, if the frame is being installed into a reveal, the membrane will need to be applied prior to installation. If installing where the frame projects forward of the opening, the membrane can be applied after installation.
Benefits
Weather and surface-independent attachment to the window
Four gasket options to suit most window/curtain walling profiles
High security
RAL-tested
Technical data
<thead></thead>
Property

Test Method

Result

Building Material Class

DIN 4102

B2 (ABP P-NDS04-776)

Water Vapour Permeability

EN ISO 12572

sd value between 0.3 and 20 m, depending on average atmospheric humidity, and acts as an intelligent vapour barrier

Water Vapour Resistance Factor (µ)

DIN 52615

500 - 33000

Weathertight Against Driving Rain

EN 1027

> 600 Pa

Airtightness

DIN 18542
EN 1026

< 0.1 m3/[h m (daPa)n]

Adhesion of the Self-Adhesive

AFERA 4001 P11

minimum 12 N/25 mm

Compatibility with Traditional Building Materials in Contact

DIN 18542

Passed

UV Resistance of the Non-Woven Film Composite (Non-Woven Composite, Weathered Fleece Side Free)

12 months

Temperature Resistance

-40°C to +80°C

Processing Temperature

+5°C to +45°C

Storage Period

1 year