Back to product listing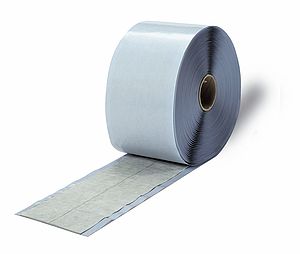 ME404 is a solvent free, self-adhesive, plastic-elastic, butyl rubber sealing tape with high adhesive strength, laminated on one side with a plastic non-woven fleece. Butyl Tape Fleece is stable in form in the longitudinal direction, while in the transverse direction it has a permanent movement capacity of up to 10%.
Usage Guidelines
ME404 is used for sealing joints, seams, and cracks in internal window perimeter connections:
With metal and sheet metal structures (e.g. sealing segment elements on metal structures)
In covered roof areas (not UV resistant).
Technical data
| Property | Test Method | Result |
| --- | --- | --- |
| Building Material Class | 4102 | B2 (normal flammability) |
| Application Temperature | | +5°C to +30°C |
| Temperature Resistance | | -40°C to +130°C for short periods to +180°C |
| Storage | | Store in shaded dry conditions between +10°C and 25°C. |
| Shelf Life | | 12 months when stored as recommended in original unopened containers |