Back to product listing
ME315
Total Protection Tape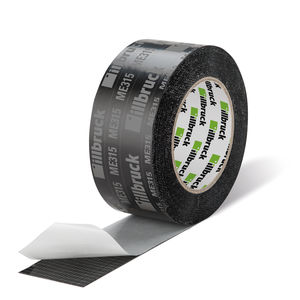 ME315 is a special tape with solvent free modified acrylic dispersion adhesive.
Usage/Purpose
ME315 is a single-sided adhesive tape for interior and exterior use, providing a high performing air and weather tight seal. Suitable for a wide variety of applications including sealing of sheathing boards, slab edge details and the durable bonding of illbruck vapour barrier and breather membranes. A permanent bond is achieved on all illbruck indoor and outdoor building protection membranes.
Fully compatible with all illbruck building protection products
Interior and exterior use
Quick and easy application
Highly UV resistant
Can be used within partially open façades
Weather resistant
Highly moisture resistant adhesive
Excellent adhesive bond strength to most common substrates
Very soft to touch
Packaging
| | | | |
| --- | --- | --- | --- |
| Item No. | Roll Length | Roll Width | Rolls/Box |
| 398628 | 25 m | 60 mm | 12 |
| 341417 | 25 m | 100 mm | 6 |
| 341416 | 25 m | 150 mm | 4 |
Technical data
<thead></thead>
Property
Test Method
Result
Material
UV Stabilised solvent free acrylic dispersion.
Bonding Strength*
DIN EN 1939
Approx. 35 N/25 mm
UV Resistance
EN 1849-2
12 months
Ageing Resistance
Very good
Moisture Resistance
Very good (rainproof)
Plasticiser Resistance
Very good
Compatibility with common building materials
Given
Service Temperature
-40°C to +100°C
Application Temperature **
-10°C to +40°C
Storage
Store in shaded, dry conditions
Shelf Life
1 year when stored asrecommended in originalunopened packaging.
* depending on ambient temperature and relative humidity
** depending on ambient temperature, the use of appropriate illbruck primer is recommended. Store all primers prior to use at minimum 10ºC.