Back to product listing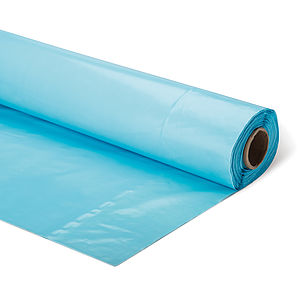 ME003 is a 3-ply co-extruded PE membrane which has been developed as a vapour barrier.
Usage/Purpose
This innovative 3-ply co-extruded PE vapour barrier membrane meets virtually all the demands of professional practice and protects the construction and insulation by providing a vapour and air-tight seal. High-grade granulates are used as its main constituents, which does not lower the sd-value (vapour diffusion-equivalent air layer thickness). Consequently, this high-grade product offers comparable diffusion resistance properties to typical 160 μm PE vapour barriers, despite its lower thickness.
Straightforward application due to low weight
Flexible and tear-resistant
Highly vapour retardant
Compatible with illbruck intelligent window membranes and adhesives
Technical data
<thead></thead>
| Property | Test Method | Result |
| --- | --- | --- |
| Application | | Vapour retarder |
| Material | | 3-ply co-extruded polyethylene membrane |
| Thickness | EN 1849-2 | 110 µm |
| Grammage | EN 1849-2 | Ca. 100 g/m² |
| Building Material Class | DIN 4102-1 | B2 |
| Reaction to Fire | EN 13501-1 | Class E |
| Maximum Tensile Strength - Lengthwise/Crosswise | EN 12311-1 | >150 N/ 50 mm |
| Elongation of Break - Lengthwise/Crosswise | DIN 53857 | >850 % |
| Tear Growth Resistance | EN 12310-1 | >140 N |
| Vapour Diffusion - Equivalent Air Layer Thickness | EN 1931 | Sd-value >107 m |
| Vapour Resistance | | 535 MNs/g |
| Service Temperature Range | EN 13859-1 | -40°C to +80°C |
| Durability for Water Vapour Permeability | EN 13984 | passed |
| Storage | | Store in shaded, dry conditions and avoid stacking pallets |
| Shelf Life | | 1 year when stored as recommended in original unopened packaging |