Back to product listing
LD925
Flexible i-Seal Coating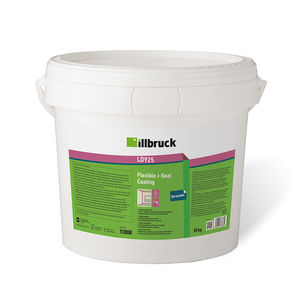 LD925 is a sprayable, water-based elastic liquid membrane which forms an air seal after drying, with a moisture-variable diffusion resistance.
Usage/Purpose

Specifically designed for building applications where a high level of air tightness is required (eg Passive House). Apply for air and vapour sealing of floor-to-wall, wall-to-ceiling and various other joint connections.
Forms a seamless membrane with very good adhesion to many porous surfaces and most typical building materials such as steel, concrete, stone, wood and aluminium. Can be painted, plastered or bonded to after drying.
Due to the moisture-variable diffusion resistance, the seal can be applied to both the inside and outside of the construction.


Water-based so tools are easy to clean
Airtightness tested by SKG-IKOB to 1750 Pa with a dry layer thickness of 1 mm
Permanently elastic after curing
Very sustainable
EC1 Plus very low VOC emissions
Good adhesion to slightly damp surfaces
Non-staining with most substrates