Back to product listing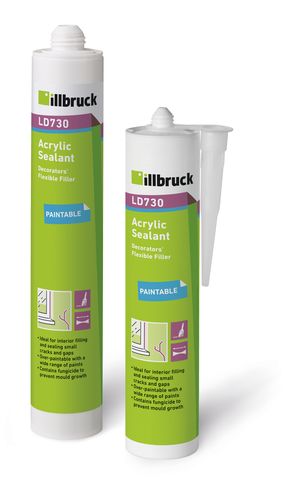 LD730 Acrylic Sealant is a one component, gun grade acrylic sealant (decorators' caulk) with fungicide, designed to provide a flexible and paintable seal where shrinkage and construction tolerances have left unsightly gaps in building interiors.
Usage/Purpose

For Interior Use
LD730 is a flexible, mould resistant acrylic sealant for use in painting and decorating. It provides an over-paintable seal for filling cracks and gaps around door and window frames, penetrations, damaged plaster and other wall and ceiling surfaces.


Ideal for filling and sealing small cracks and gaps throughout building interiors
Over-paintable: will overcoat with a wide range of paints
Solvent free: no unpleasant solvent odours
Contains fungicide to prevent mould growth
Usage Guidelines
The user is advised to conduct tests to determine the suitability of the product for the intended application prior to use
Application should be in accordance with BS 8000:16 - "Code of practice for sealing joints in buildings using sealants".
Apply with conventional skeleton gun at temperatures between +5°C and +40°C.
All beads should be tooled after application to ensure full firm contact with the joint faces.
LD730 can be over painted with emulsion paint after approximately 1 hour. Allow 3 - 4 days with oil based paints depending on ambient conditions.
Protect from water for a minimum of 24 hours after application.
Application in damp or humid conditions will significantly extend the cure time.
Technical data
| Property | Test Method | Result |
| --- | --- | --- |
| Composition | | water based acrylic |
| Specific Gravity | | 1.62 - 1.68 |
| Shore A Hardness | | 30 |
| Tack Free Time | at 23°C, 50% RH | 15-60 minutes |
| Elongation at Break | DIN 53504 S2 | 250 - 300% |
| Movement Accommodation | | ±12.5% |
| Application Temperature | | +5°C to +40°C |
| Service Temperature Range | | -15°C to +75°C |
| Storage | | Store in shaded dry conditions between +5°C and +25°C |
| Shelf Life | | 12 months when stored as recommended in original unopened containers |