Back to product listing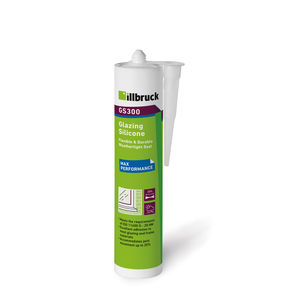 GS300 is a gun grade, acetoxy cure, glazing silicone which forms a flexible and durable weather tight seal. It can be used for all classical glass and glazing applications.
Usage/Purpose

GS300 can be used for: all classical glazing joints including cap beads; shop windows, display cases, etc.; conservatories and greenhouses; and glass panels.


Meets the requirements of ISO 11600 G - 25 LM
Excellent adhesion to most glazing and frame materials
Wide service temperature range: -40°C to +180°C
Accommodates joint movement up to 25%
Suitable for sanitary applications
Solvent free
Usage Guidelines
Always carry out a test application prior to installation, to confirm compatibility and suitability for use
Application should be in accordance with BS 8000:16 - "Code of practice for sealing joints in buildings using sealants"
Apply between +5°C and +40°C using a conventional skeleton gun or electric/power equipment
All beads should be tooled after application to ensure firm, full contact with the joint faces
Tooling should commence without delay due to the rapid skinning of the product
Technical data
| Property | Test Method | Classification |
| --- | --- | --- |
| Composition | | acetoxy cure silicone sealant |
| Specific Gravity | | 1.02 |
| Consistency | ISO 7390, profile U20 | non-sag |
| Shore A Hardness | ISO 868 | 20 |
| Skin Forming Time | at 23°C, 50% RH | 20 minutes |
| Tack Free Time | | Approximately 30 minutes |
| Cure Rate | at 23°C, 50% RH | 2-3 mm/1st day |
| Tensile Strength | ISO 8339 | 0.6 N/mm² |
| Modulus at 100% Elongation | ISO 8339 | 0.35 N/mm² |
| Elongation at Break | ISO 8339 | 250% |
| Movement Accommodation | | 25% |
| Elastic Recovery | ISO 7389 | 95% |
| Application Temperature | | +5°C to +40°C |
| Service Temperature Range | | -40°C to +180°C |
| Storage | | Store in dry conditions between +5°C and +25°C |
| Shelf Life | | 18 months when stored as recommended in original unopened containers |