Back to product listing
FM365
B3 Expanding Foam Max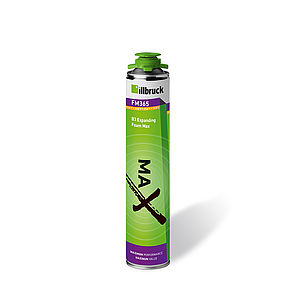 FM365 is a rapid curing, high yield, one component gun grade expanding polyurethane foam that is suitable for general gap filling, bonding and insulation applications.
Usage/Purpose

FM365 is suitable for general gap filling, bonding and insulation applications. These include the perimeter sealing and fixing of windows and doors, sealing of non-fire rated service penetrations and sealing around insulation panels.


Ideal for filling, sealing and insulating of joints and gaps in a variety of building and construction applications
High yield application – joint only requires filling to 60%, prior to post-expansion
Rapid cure formulation – foam is tack free within 8 minutes, and can be cut or trimmed within 45 minutes
Forms a strong bond to concrete, brickwork, stone, plaster, wood, fibre concrete, metal, PVC and polystyrene
Usage Guidelines
Shake the canister vigorously at least 20 times. Remove the protective cap and screw the gun carefully onto the canister.
Invert can and direct nozzle into gap, pressing gently on the trigger to establish the correct flow rate.
Joints should be underfilled to allow for post expansion of the foam. Fill to approximately 60% of joint depth for optimum results.
For best results always work with the canister in a vertical position and keep the valve pointed downwards.
On horizontal surfaces, always work away from the exuded bead and on vertical applications, start at the bottom, working upwards.
On deep joints, apply in layers, waiting until each layer has skinned and partially cured before applying the next.
Applying a light misting of clean water before applying each layer before subsequent application will assist adhesion and cure speed.
Technical data
Property
Test Method
Results
Composition
Polyurethane foam
Fire Classification
DIN 4102-1
B3
Yield
FEICA TM1003
40 litres
Water Absorption
EN 1609
0.2 kg/m²
Density
LAB 015
10 - 15 kg/m³
Tack Free Time
FEICA TM 1014
8 minutes
Cutting Time
FEICA TM 1005
45 minutes
Loading Time
24 hours
Compressive Strength (10%)
FEICA TM 1011
21.7 kPa wet
23.5 kPa dry
Elongation at Break
FEICA TM 1018
69% wet
35% dry
Thermal Conductivity
EN 12667
36 mW/m.K
Application Temperature
Canister:
+20°C
Ambient:
+5°C to +35°C
Service Temperature
Short Term: -40°C to +130°C
Long Term: -40°C to +90°C
Storage
Store in shaded dry conditions between +10°C and +25°C. Store canisters upright. The product is contained in a pressurised container - observe storage instructions and do not apply heat.
Shelf Life
18 months when stored as recommended in original unopened containers.