Back to product listing
CY300
Industrial Super Glue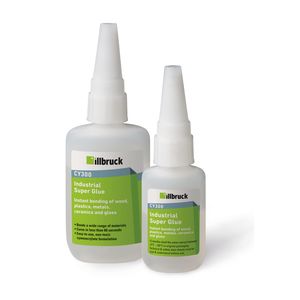 CY300 is a versatile, ready to use, transparent, solvent free, medium viscosity, cyanoacrylate adhesive which develops very rapid high strength bonds when used between close fitting surfaces
Usage/Purpose
For Interior Use
CY300 is ideal for general purpose assembly and fixing work and offers a convenient means of repairing broken items. It can be used to bond dissimilar materials. It is suitable for bonding rubbers, EPDM, plastics, ceramics, metals, wood, MDF and leather.
Can be used with CY360 Activator to speed up cure rate.
Industrial strength superglue that forms an instant bond on many porous & non-porous substrates
Perfect for the installation of PVCu trims
Specially constructed lid to keep nozzle clear
Cures in less than 60 seconds, with very high final bond strength
Easy-to-use, solvent free formulation
Can be used with CY360 Cyanoacrylate Activator to give a high quality bond
Usage Guidelines
Shake the adhesive thoroughly before use. For ease of application, maintain at a temperature between +15°C and +24°C.
Apply a uniform coating of adhesive to both surfaces using a serrated trowel, adhesive spreader or brush.
Allow the solvents to evaporate until the adhesive is dry to the touch. This may take 10 to 20 minutes depending on the porosity of the materials, ambient temperature, humidity and the thickness of the deposited adhesive.
Position coated surfaces accurately and press firmly to ensure overall contact.
Mechanical pressing, even of very short duration, will always give superior results.
Hand pressing by means of a flat wooden block lined with felt or hard rubber roller is sucient for most applications.
Description
CY300 is a liquid cyanoacrylate super glue developed for rapid high strength bonding of lightweight materials. Particularly suited for installing PVCu trims.
Packaging
20 g bottle (25 per carton) 50 g bottle (25 per carton)
Technical data
| Property | Result |
| --- | --- |
| Composition | Modified ethyl cyanoacrylate |
| System | Cross linking |
| Specific Gravity | 1.05 |
| Viscosity (at 20°C) | 200 cps |
| Flash Point | above +85°C |
| Drying Time (at 20°C) | < 60 seconds (see application details) |
| Application Temperature | +15 °C to +25°C |
| Service Temperature | -55 °C to +80°C |
| Storage | Store in dry shaded conditions between +5°C and +20°C. |
| Shelf Life | 12 months when stored as recommended in original unopened packaging. |