Back to product listing
CT600
Sprayable Contact Adhesive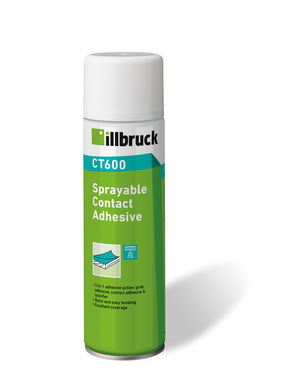 CT600 is a high strength contact adhesive in a handy aerosol can ideal for quick & simple bonding of many common materials.
Usage/Purpose

CT600 is ideal for quick and simple bonding of many common materials, including: wood, cardboard, fibrous insulation materials, paper, plastics, canvas, cork, rubber, fabrics and foam, either to themselves or onto brickwork, concrete, stone and plaster. Supplied in a handy aerosol with a variable nozzle which allows different coating weights. Ideal for use in furniture manufacture.

A powerful contact adhesive in a convenient easy-to-use 500 ml canister
Dries rapidly to form a high strength bond with porous and non-porous materials
Integral adjustable nozzle allows precise control of the spray pattern to suit any particular job
Versatile formulation - can be used as a one-way, contact or temporary tacking adhesive
Excellent coverage - up to 5 m² of bonded area from a single canister
Usage Guidelines
Shake the can thoroughly before use.
Remove the cap and turn the nozzle to the desired spray width.
Hold the can 20 cm to 25 cm away from the surface and spray onto the substrate to be bonded.
After use turn the can upside down and press the spray nozzle until it is clear of adhesive. This will prevent a blockage in the nozzle.
Description
CT600 is a high strength contact adhesive made from a blend of synthetic rubber and resin that is supplied in an easy-to-use 500 ml handheld sprayable canister. Variable spray valve for different coating weights.
Packaging
500 ml can (12 per carton)
Technical data
Property
Results
Compostion
A blend of synthetic rubber and resin
System
Solvent evaporation
Specifc Gravity
1.22
Viscosity(at 20°C)
Sprayable
Flash Point
-40°C
Drying Time (at 20°C)
2-3 minutes
Application Temperature
+5°C to 30°C
Service Temperature
-20°C to +65°C
Storage
Store in dry shaded conditions between 0°C and +30°C
Shelf Life
12 Months when stored as recommended in original unopened packaging.