Back to product listing
CT456
Sprayable Contact Adhesive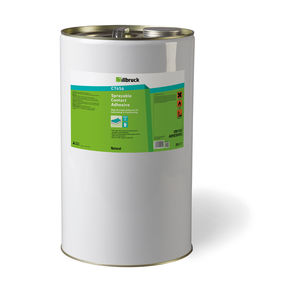 CT456 is a bulk spray-applied contact adhesive that is particularly suited to the post forming of plastic laminates. The adhesive has good temperature resistance, instant grab and high ultimate bond strength.
Usage/Purpose

CT456 has a variety of industrial applications, but is particularly suited to the postforming of plastic laminates. Ideal for use in the manufcture of laminated doors. The adhesive has good temperature resistance, instant grab and high ultimate bond strength, so is suitable for even tight radii postforming. It is also used for bonding a wide range of materials, such as metals, expanded foams, plywood, OSB, particleboard, hardboard and plasterboard.


Very high initial grab and ultimate bond strength contact adhesive
Ideal for laminate postforming, even in tight radii operations
Perfect for use in door lamination
Improved atomisation allows immediate lay up, eliminates blooming and reduces odour
Sprayable formulation allows high coverage rates and rapid application times to be achieved
Usage Guidelines
Surfaces must be clean, dry, smooth, firm and free from any traces of contaminant which may affect adhesion.
Metal surfaces must be degreased using AT200 High Strength Cleaner and completely dry before bonding.
See product data sheet for application details.
Clean spray equipment with TREMCO AW421
Packaging
25 litre drum
Technical data
Property
Results
Composition
Modified chloroprene rubber
System
Solvent evaporation
Specific Gravity
0.82
Viscosity (at 20°C)
120 - 280 cps
Flash Point
below -20°C
Open Joint Time
Porous Substrates: Instant to 25 minutes
Non-Porous Substrates: 5 to 45 minutes
Application Temperature
+5°C to +25°C
Heat Resistance
-40°C to +120°C
* For the best heat resistance, leave at room temperature for 7 days, before subjecting to high in-service temperatures up to 120°C. Higher temperatures can be tolerated in certain occasions, please refer to CPG technical for more guidance.
Storage
Store in dry shaded conditions between +5°C and +25°C.
Shelf Life
12 months when stored as recommended in original unopened packaging.