Back to product listing
CT113
EPDM Membrane Adhesive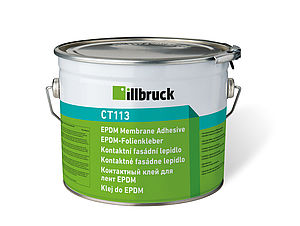 CT113 is a viscous liquid adhesive made from a blend of synthetic rubber and resins, developed for the bonding of illbruck EPDM membranes.
Usage/Purpose
CT113 is a viscous adhesive developed for the bonding of ME220 EPDM membranes, particularly in façade applications. CT113 is compatible with surfaces such as wood, metal, masonry and other building materials.
Ideal for bonding of ME220 EPDM membranes in facade installations
Cured adhesive has excellent resistance to weathering and the ageing effects of UV exposure
Adhesive accommodates a wide fluctuation in temperature from -20°C to +80°C
Cures within 20 minutes to form a high strength and elastomeric connection
High initial adhesion strength
Usage Guidelines
Always carry out a test to confirm compatibility prior to use.
All surfaces must be dry, clean and sound, free from dirt, grease and other contamination.
Use mechanical abrasion to clean porous surfaces if necessary before sealing.
It is recommended to degrease the substrate (and membrane if necessary) by using isopropanol.
Technical data
| Characteristics | Classification |
| --- | --- |
| Composition | A Blend of synthetic rubber and resin |
| System | Solvent evaporation |
| Specific Gravity | 0.8 |
| Drying Time (at 20°C) | approx. 20 minutes |
| Final Adhesion Strength | 24-48 hours |
| Peel Strength | 50 N/ 25mm |
| Application Temperature | +5°C to +35°C |
| Service Temperature | -20°C to +80°C |
| Storage | Store in shaded, dry conditions between +5°C and +25°C |
| Shelf Life | 12 months when stored as recommended in original, unopened containers |