Back to product listing
ME500
Duo Flexible Window Membrane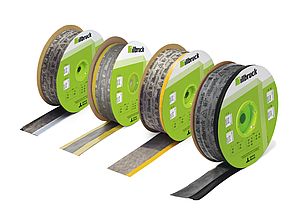 ME500 (E and W) is a polyethylene copolymer film with non-woven fleece fabric and acrylic self-adhesive or gasket (ME500-W only) and butyl adhesive strips for location to frame and wall respectively that is used in window installation.
Usage/Purpose

ME500 Duo Flexible Window Membranes (E & W) comprises a tear-proof woven fleece fabric with a polyethylene copolymer film. An integrated movement pleat is included in the foil which complies with the planning and installation recommendations of DIN 4108-7 and with the RAL Quality Assurance Association for windows and doors. It is attached to the wall with butyl adhesive, and to the window /door with a self-adhesive strip. The product has a specially designed reactive foil - water vapour permeability (sd value) changes depending on the humidity inside the joint. This allows the product to perform as an intelligent seal for airtight internal joints, and weathertight breathable external joints. The intelligent reactive system ensures that the joint always dries at the maximum rate. In non-fenestration applications, the membrane can be used to seal across adjacent insulated panels as an airtight or weathertight seal.
The variable sd value ensures that the joint dries out quickly, thus protecting against mould and moisture damage.
Single product acts as internal airtight seal and external weathertight but breathable seal.
Easy fixing to frame and wall.