Back to product listing
SP350
Fix & Seal High Tack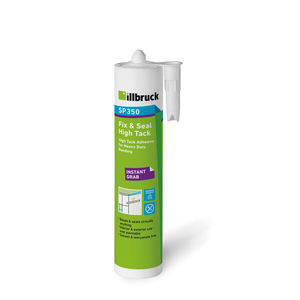 SP350 has been developed to bond materials to floor, wall and ceiling, where the extremely high initial strength of the product is very useful for this high performance adhesive.
Usage/Purpose

SP350 is ideal for a vast range of interior & exterior applications and may be applied to damp substrates. Applications include:
Fixing Aluminium and PVCu nosings and extrusions to concrete and wooden stairs.
Carpet grippers to most sub floors without using tacks or nails.
Most types of wall cladding, direct wall studding, internal wall surfaces or timber battens.



High initial grab and rapid development of final bond
Formulation is solvent free, very low odour, and chemically neutral
Instant grab can minimise the need for additional clamping or other mechanical supports
Good resistance to light, weather and ageing - suitable for internal and external applications
Usage Guidelines
May be applied to damp substrates.
For optimum adhesion, surfaces should be clean, dry, sound and free of contamination.
Always carry out a test to confirm compatibility prior to use.
Roughen non-porous surfaces.
On materials such as glass, aluminium, ceramics, lacquered wood, epoxy and polyester no primer is required. For other materials, please contact tremco illbruck Technical Services.
Description
SP350 is a one component, non-sagging, elastic adhesive based on hybrid polymers.
Packaging
310 ml cartidges (12 per carton)
Technical data
| Property | Test Method | Results |
| --- | --- | --- |
| Specific Gravity | DIN 52451-A | ~ 1.5 |
| Consistency | EN 27390 20 mm profile | 0 mm , non-sagging |
| Film Formation Time | | ~ 20 minutes at 23°C/50% RH |
| Cure Rate | | ~ 4 mm/1st day |
| Volume Shrinkage | DIN 52451 | ~ 3.4% |
| Modulus at 25% Elongation | DIN 53504 S2 | ~ 0.5 N/mm² |
| Modulus at 100% Elongation | DIN 53504 S2 | ~ 1.2 N/mm² |
| Tensile Strength | DIN 53504 S2 | ~ 2.5 N/mm² |
| Elongation at Break | DIN 53504 S2 | ~ 400 % |
| Module at 100 % Elongation | DIN EN ISO 8339 Method A | ~ 1.1 N/mm² |
| Tensile Strength | DIN EN ISO 8339 Method A | ~ 2.0 N/mm² |
| Elongation at Break | DIN EN ISO 8339 Method A | ~ 320% |
| Shore A Hardness | DIN 53505 | 55° |
| Application Temperature | | +5°C up to +40°C |
| Service Temperature | | -40°C up to + 90°C |
| Storage | | Store in shaded dry conditions between +5°C and +25°C. |
| Shelf Life | | 12 months when stored as recommended in original unopened containers. |