The illbruck Building Protection Range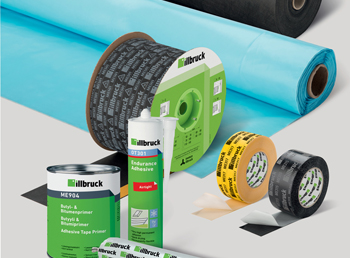 illbruck is well-known for its site support and service levels and through our on-going customers and client on-site, 'toolbox' talks, and site visit reports, along with adhesion and chemical compatibility testing – it is clear that incompatibility between products from multiple sources can be a problem.
The illbruck Building Protection range solves this problem. A range of products that are fully compatible with one another from inside to outside. The inter-compatibility stretches from adhesives to our own membranes and tapes, membranes to membranes and also considers common construction materials. Illbruck products are endorsed by many market leading material suppliers.
Problems our range solves:
Window membrane to breather membrane compatibility
Window membrane to vapour barrier compatibility
Vapour barrier tape to window membrane
Breather membrane tape to window membrane
Vapour barrier to floor, ceiling and walls
Bonding to sheathing board tapes
Tape compatibility to sheathing board, vapour barrier and breather membrane
Adhesive to adhesive compatibility
Bonding to damp sheathing board
Building Protection Range
---