Back to product listing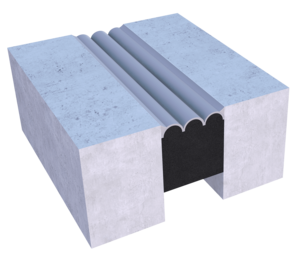 Usage/Purpose
­Typically used as an external joint sealant, engineered to perform in horizontal applications subject to solvents and fuels such as those found in multi storey car parks. The following are acceptable applications for TW200 :
Multi Storey car parks (Fully compatible with Deckshield coating systems)
Goods inward/Loading bays
Elevated walkways and Balconies (Fully compatible with Vulkem Quick membrane systems)
Link bridges​
Stadia
Allows for up to 100% (±50%) movement accommodates rapid rates of joint movement.
Easy and quick installation, fast turnaround, facilities back in use in shorter time scale.
Supplied in pre-compressed state for ease of installation
Utilises Epoxy adhesive technology so no invasive anchoring required.
Monolithic construction, robust and no unbonded laminations.
Preparation
Verify that the joint is clean, sound, and will provide an appropriate surface for installation of the joint sealant.
Clean any lose debris rom the joint in the structure.
Apply water or alcohol to a clean cloth and wipe the joint walls to the depth of the sealant material plus 25 mm.
Verify that the joint is uniform and repair any spalls prior to installation.
Check the material for appropriate length, width, and depth.
Supplied material should be pre-compressed to a size smaller than the intended joint opening.
Joint depth must allow for the installed material to be recessed 6 mm from the substrate surface.
Usage Guidelines
Application procedure
When fully prepared to install, apply a 2 - 3 mm coating of the epoxy mixture to both joint walls using a suitable margin trowel to a depth of the TW200 plus 10 mm (Fig. 1).
The epoxy must still be wet upon installation of TW200. The working time for epoxy is approximately 30-45 minutes depending on the temperature.
If the epoxy hardens on the surface of the substrate before installation, another coat of epoxy can be applied within 2 hours. After 2 hours, the substrate surface must be abraded to eliminate the amine blush that occurs during the final cure
Cut the shrink packaging along the edge of the MDF support boards (Fig. 2).
Verify that the material is cut square at both ends for proper seams; all pieces must be square to the termination point.
Pay attention to the direction of insertion marked on the packaging
Be prepared to install the material immediately once the packaging is removed to prevent the material from expanding past the joint width
Initially, position Willseal 250 just above the deck surface, once the material is partially expanded in the joint it can then be installed to the required depth 6mm below the surface of the joint using a putty knife or margin trowel (Fig. 3).
Make sure not to pull, twist or stretch the Willseal 250 during the installation process.
Method For Forming Butt Joints
Verify that the new piece of material is cut square and not at an angle to the previous piece installed
Apply FA880 sealant to the end of the new piece of material (Fig. 4).
Do not apply FA880 sealant to the faces of the product that are in contact with the epoxy adhesive.
Overlap extra material (approximately 15-25mm) at butt joint to ensure that the join is in compression after installation (Fig. 5).
Make sure the ends are flush against each other and then push the pieces together (Fig. 6).
Butt join all "T" and "+" intersections (Fig. 7).
Apply FA880 sealant over joins and intersections.
Applying Sealant To Joint Edges
Wipe off and remove any excess Epoxy adhesive and FA880 sealant.
Apply a continuous bead of FA880 sealant along both edges and tool off to form a neat fillet between the Willseal 250 and the deck edges as shown below (Fig. 8).
Remove any excess sealant and masking duct tape to complete the installation.
Description
TW200 is a pre-compressed, self-expanding open micro-cell polyurethane foam impregnated with a hydrophobic, acrylic polymer sealing compound coated with a factory-applied traffic grade silicone sealant. It is designed to provide a watertight, dust-proof, airtight, noise-reducing, thermally insulating, and UV stable primary seal that does not require invasive mechanical fixing for installation.
Packaging
| Joint width (mm) | Joint depth (mm) |
| --- | --- |
| 13 | 51 |
| 16 | 51 |
| 20 | 51 |
| 25 | 51 |
| 32 | 51 |
| 38 | 51 |
| 45 | 51 |
| 51 | 76 |
| 57 | 76 |
| 64 | 76 |
| 70 | 76 |
| 76 | 76 |
Larger sizes of TW250 are available, details upon request.
Please Note
Only Use Epoxy adhesive and illbruck sealant supplied with your TW200 order.
Installation temperature at least 5°C and rising during the installation process to a maximum of 30°C.
High temperatures accelerate the products expansion during installation, while low temperatures delay this.
Avoid contact of TW200 with hydrocarbon solvents, solvent based paints, and corrosive chemicals.
TW200 will not adhere to surfaces contaminated by oil or grease. Concrete should clean, dry & sound.
Store material in a dry, enclosed area, off the ground, and out of direct sunlight at 20°C minimum.
Not suitable for joints continuously submerged in water.
Joints in roofing applications or areas with occupied space below
For more detailed information on the Installation of the TW200 please refer to our installation guide. Health & Safety Precautions. Safety data sheet must be read and understood before use.
Technical data
| Property | Test Method | Result |
| --- | --- | --- |
| UV resistance | DIN 18542 | Pass |
| Ultimate elgongation | N/A | Exceeds rated maximum extension without tension |
| Surface temperature range | ASTM C711 | -40°C to +87.7°C |
| Silicone elongation | N/A | Never under tension and exceeds maximum movement range (>1000%) |
| Silicone flexibility | N/A | Excellent |
| Resistance to compression set | Full cycle tested in an environmental chamber through the stated temperature stability range | No bleeding when compressed to minimum of claimed movement of normal size and when simultaneously heated to 87.7°C for 3 hours. |
| Compression set | Full cycle tested in an environmental chamber through the stated temperature stability range | Will not delaminate due to thermal shock or compression set |
| Temperature stability range | | -40°C to +80°C |
| Ideal storage temperature | | 20°C |
| Shelf life | | 6 months |