Back to product listing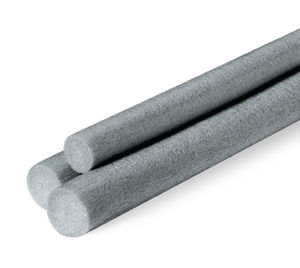 PR102 is a closed cell polyethylene (PE) circular foam suitable for providing a backer to sealant joints, avoiding three-sided adhesion. PR102 is rot-proof and chemically neutral.
Usage/Purpose
For Interior and Exterior Use
PR102 is used as a foam backing rod behind the sealant joint, for quality sealant work. When positioned correctly it ensures correct joint dimensions. PR102 avoids 3-sided adhesion, allowing the joint to move more efficiently.
Ensures correct sealant geometry
Prevents excess material usage
Avoids three-sided adhesion
Excellent value for money
Usage Guidelines
Select a diameter greater than the joint width to ensure the backer rod is compressed when installed (typically 25% compression is acceptable).
Push into the joint to a depth appropriate to the required depth of sealant. Ensure the depth is consistent along the joint length.
Take care not to puncture the material as gas may be emitted from the cell structure which can react with the applied sealant. If this does happen, wait minimum of 30 minutes before applying sealant.
Packaging
| | |
| --- | --- |
| Dimensions (diameter) | Packaging |
| 6 mm | 2,500 m/box |
| 10 mm | 1,150 m/box |
| 13 mm | 750 m/box |
| 15 mm | 550 m/box |
| 20 mm | 350 m/box |
| 25 mm | 200 m/box |
| 30 mm | 160 m/box |
| 40 mm | 270 m/box |
| 50 mm | 180 m/box |
Technical data
| | |
| --- | --- |
| Characteristic | Classification |
| Material Type | Closed cell PE foam |
| Specific Gravity | 25 |
| Thermal Conductivity | 0.04 W/m.K |
| Water Vapour Transmission | < 4 g/m²/24 h/50 mm |
| Water Absorption | < 1% volume after 24 h |
| Service Temperature | -70°C to +90°C |
| Storage | Store in original containers. Do not compress. Store between +1°C and +20°C |
| Shelf Life | Unlimited when stored as recommended in original, unopened containers |
*Select a diameter greater than the joint width to ensure that the backer rod is compressed and held firmly when installed ( 25% compression is acceptable)