Back to product listing
FA101
Premium Glazing Silicone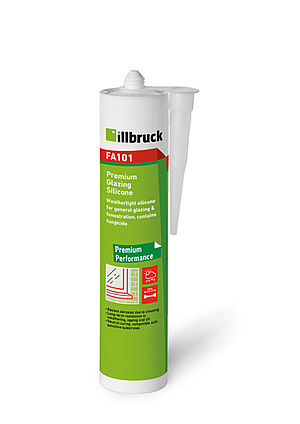 FA101 is a one part, neutral curing, low modulus, low odour silicone sealant for sealing around frames and glazing units. It exhibits excellent primerless adhesion to many common building substrates such as glass, polyacrylate, polycarbonate, painted wood, varnished wood, anodised aluminium, and forms an excellent waterproof seal.
Usage/Purpose

FA101 Premium Glazing Silicone is typically used around glazing. It is also suitable for movement joints, meeting the requirements of EN ISO 11600. It offers good adhesion to most non-porous substrates such as anodized aluminium, polyacrylates, polycarbonates, painted or varnished wood, glass and glazed surfaces.


Abrasion resistant
Long term resistance to weathering and ageing with extra UV protection
Neutral curing – low odour and compatible with sensitive substrates
Easy to use
Contains fungicide
Usage Guidelines
Always carry out a test to confirm compatibility prior to use.
Surfaces must be clean, free from grease, stable and dry.
For non-porous substrates use cleaner AT200, do preliminary test.
Use a brush to remove loose particles from joints.
For plastics and powder coatings, clean with AT115 and conduct preliminary tests to confirm compatibility.
For full details, refer to product data sheet.
Technical data
Characteristic
Standard
Classification
Specific Gravity
EN ISO 1183-1 B
~ 1
Fire Classification
EN13501-1
Class E
Resistance to Flow
EN ISO 7390 (20 mm)
0 mm
Shore A Hardness
ISO 868
~ 20
Skin Forming Time
at 23°C, 50% RH
~ 5-10 minutes
Cure Rate
at 23°C, 50% RH
~ 2.5 mm/1st day
Volume Shrinkage
EN ISO 10563
~ 3%
Tensile Strength
EN ISO 8339
~ 0.5 N/mm²
Elastic Recovery
EN ISO 7389
~ 80-90%
Modulus at 100% Elongation - Black & Middle Brown
EN ISO 8339 at 23°C
~ 0.3-0.4 N/mm²
Modulus at 100% Elongation - White & Translucent
EN ISO 8339 at 23°C
~ 0.4 N/mm²
Elongation at Break
EN ISO 8339
~ 230%
Movement Capability
ISO 11600
25%
Classification

EN15651

ISO 11600

EN 15651-1 class 25 LM CC

EN 15651-2 class 25 LM CC

DIN EN ISO 11600-F-25LM

DIN EN ISO 11600-G-25LM

Application Temperature
+5°C to +40°C
Servicing Temperature Range
-40°C to +150°C
Storage
Store in dry conditions between +5°C and +25°C
Shelf Life
12 months when stored as recommended in original unopened containers.