Back to product listing
CT468
High Performance Contact Adhesive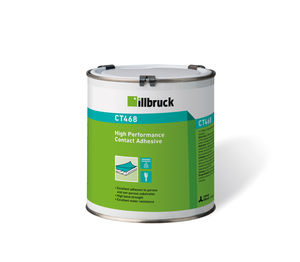 CT468 is a high performance, rubber based, brush applied contact adhesive which has good heat resistance.
Usage/Purpose

For Interior Use
CT468 is a high performance contact adhesive with good heat resistance. Brush or comb applied.
CT468 offers excellent adhesion to non-porous surfaces. Although primarily developed for bonding laminated plastics, it is equally suitable for unplasticized or low plasticizer content PVC and ABS sheeting, aluminium, steel, rubber and asbestos cement sheeting.


High performance contact adhesive with high bond strength and good heat resistance
Cured adhesive will withstand temperatures up to +100°C (7 days after bonding)
Fully developed bond has good resistance to water, mild acids and alkalis
Once dry bond line does not support combustion
Very good specific adhesion to non-porous substrates
Apply by brush or comb
Equipment should be cleaned with TREMCO AW421 solvent cleaner
Packaging
1 litre can (12 per carton)
Technical data
<thead></thead>
Property
Results
Composition
Modified chloroprene rubber
System
Solvent evaporation
Specific Gravity
0.89
Viscosity (at 20°C)
5,000 - 6,000 cps
Flash Point
Below -18°C
Dry Tack Time (at 20°C)
4 to 30 minutes
Application Temperature
+5°C to +25°C
Heat Resistance
+100°C
*For best heat resistance, leave at room temperature for 7 days, before subjecting to high in-service temperatures up to 100°C.
Storage
Store in dry shaded conditions between +5°C and +25°C
Shelf Life
18 months when stored as recommended in original unopened packaging.