Sprayable Sealants: The Right Material is Decisive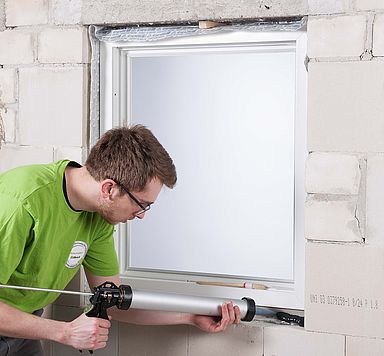 There are a multitude of joints within a whole building which present different challenges – instead of a universal solution, there are numerous sealing processes which can deal with each joint connection on an individual basis. In particular, the range of different sprayable sealants reflects the complexity of sealing options. And that's not without reason! Not every sealant is suitable for every area of application.
When selecting a suitable sealant, the following factors should be checked and the relevance for the construction situation should be evaluated:
Permissible total deformation
Compatibility with adjoining materials
Whether the sealant is paintable
Volume shrinkage
Resistance to light, heat and moisture
Compatibility with health
Sprayable sealants for every situation
Sealants should always be selected based on the area of application. Possible chemical interactions with adjoining materials should also be taken into account. If the sealant is selected according to outside influences such as temperature fluctuations, expected movement and the sub-surface, it will be possible for it to fully demonstrate its strengths.
Using the diagram, we would like to provide planners and product users with a data sheet which can be used to select a sprayable sealant. You will therefore be able to find the right sealant for every sealing situation.
Window sealing represents a special case in building sealing. This is because RAL installation guidelines stipulate three-level sealing in this area, in which all areas must be separately sealed from one another. The use of "system solutions" such as the i3 sealing system from illbruck is particularly advisable in this area: all products are customised to work together and can be combined with one another in a flexible manner. Tried and tested systems offer product users security: chemical reactions between materials and visual defects resulting from discolouration will not occur.
---