Back to product listing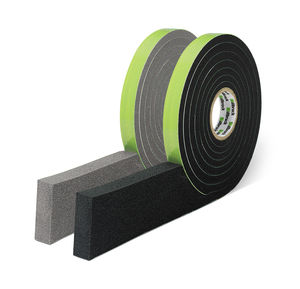 TP600 is an impregnated joint sealing tape for use in a wide variety of movement joints including window perimeter seals and other applications.
Usage/Purpose
TP600 is an impregnated joint sealing tape for use in a wide variety of movement joints including window perimeter seals and other applications. Weather tight against the most severe combinations of wind and rain, it satisfies most expectations as an external weather seal in building and civil engineering applications. With full BBA approval, the product has been extensively tested and has a proven reputation across both the UK and Europe. BBA Certificate N° 96/3309 and, as part of the i3 system, N° 12/4891.
15 year performance guarantee
Weather seal for wind-driven rain
Breathable – for vapour diffusion
Continually expands and contracts to accommodate movement whilst still sealing the joints
Thermal and acoustic insulation
Usage Guidelines
TP600 is not suitable for locations where standing water or a head of water is likely to occur, eg under a window fixed on a flat topped sub-cill where the tape is not within 2-3 mm of the vertical face of the sub-sill.
High temperatures accelerate tape expansion, while low temperatures delay this. At ambient temperatures above 20°C, the tape should be stored in a cool place on the construction site away from direct sunlight. A small fridge is ideal for this.
Remaining rolls in opened boxes should be maintained in a horizontal state and weighed down to prevent lateral expansion (telescoping) of the rolls. Whilst it is unnecessary to seal over the external face of the tape, the exposed edge can be plastered or painted over. The compatibility of sealants must be tested. In some cases, white sealants can be incompatible. The tape must not come into contact with chemicals containing solvents or aggressive chemicals.
Technical data
Property
Test Method
Result
Building Classification
DIN 4102
B1, self-extinguishing, P-NDS 04-229
Fire Classification
EN13501-1
Bs1, d0*
Exposure Class for Impregnated Foam Tapes
DIN 18542
BG1
Thermal Conductivity
DIN 52612
λ 10 < 0.048 W/m/K
Vapour Resistivity
DIN 52615
μ < 100
Resistance to Root Penetration
DIN 4062
The requirements of DIN standards are met
Air Permiability
DIN 18542
α < 1.0 m³ / [h.m.(daPa)2/3]
Weathertight Against Drving Rain
DIN 18542 / DIN EN 1027
The requirements of the DIN standard are met up to the described joint sizes, giving a minimum of 600 Pa, independently supervised by MPA Hannover.
Compatibility with conventional construction materials
DIN 18542
No Signs of corrosion observed on iron, zinc, steel, galvanised steel, aluminium, and copper. No adverse effects with concrete, aerated concrete, brick, some stones, PVC, Plexiglas or timber.
Life Expectancy
> 25 years
Performance Guarantee
15 year warranty** on performance
Service Temperature
-30°C to +90°C
Storage
Store rolls horizontally and in original caton between +1°C and 25°C in dry conditions between use to prevent expansion during storage.
Shelf Life
2 years when stored in its original unopened containers.
* For further information, please contact illbruck technical services department.
** Under the conditions specified by the manufacturers. Only valid on receipt of the correct registration documents in accordance with terms and conditions, available on request.