Back to product listing
PU038
Two Part Corner Cleat Adhesive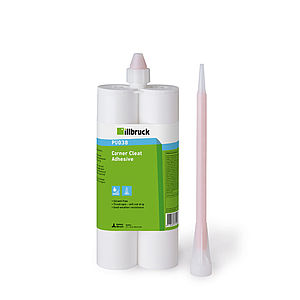 PU038 is a solvent free, two component, polyurethane based adhesive.
Usage/Purpose
PU038 is mainly used for the structural bonding of corner angles of aluminum windows and doors. Bonded parts can be powder coated afterwards.


Solvent free
Thixotropic - will not drip
Good weather resistance
Easy to apply
Technical data
Characteristic
Standard
Classification
Composition
Specific Gravity
Viscosity (mixed)
Properties of Cured Film
Hardness
Mix Ratio (Resin to Harder)
Minimum working Temperature
Contact Pressure
Open Time
Pot Life
Functional Bond Strength
Cure Time

Shear Strength

Aluminium/ Aluminium

Aluminium/ Aluminium

Wood/Wood

at +20°C

at +80°C

at +80°C

180 kg/cm²

90 kg/cm²

80 kg/cm²

Temperature Resistance of Cured Adhesive
+230°C up to 30 Minutes +110°C long Term
Storage
Store in Dry Shaded conditions between +12°C and +25°C
Shelf Life
12 months when stored as recommended in original, unopened containers.